The NFT of the Bored Ape Yacht Club are very popular on the internet, and are traded at a high price. Find out everything you need to know about this phenomenon that is setting the web3 on fire.
Table of contents
Bored Ape Yacht Club avatars
Developed by Yuga Labs, the Bored Ape Yacht Club aggregates 10,000 "minted" profile images as NFTs on the Ethereum blockchain. Its owner receives a non-fungible token to prove that they hold the only authentic version of the image.
The images depict a nonchalant monkey face with randomly generated features and accessories. Each of these images has a unique character.
The reason why the NFT Bored Ape Yacht Club is getting a lot of attention is because these avatars sell for huge amounts of money. More than a billion dollars have already been generated from the sale of these avatars.
The most expensive Bored Ape was sold for $3.4 million, but the price is usually between a few hundred and a few thousand dollars. In September 2021, the developer of the Ethereum-based game "The Sandbox" bought a Bored Ape NFT for 740 ETH, which was worth $2.9 million at the time.
Who are the creators of the Bored Ape Yacht Club?
In February 2022, the mysterious creators of the Bored Apes Yacht Club finally revealed their identities. Until now, only the entity Yuga Labs was known since the club's inception in April 2021. The company itself was founded in February 2021, and has 11 employees.
The Bored Ape Yacht Club was founded by Greg Solano and Wylie Aronow, two Florida-based 30-somethings. Both are childhood friends, and their identities were revealed from Yuga Labs' public records. The company's CEO, Nicole Muniz, also confirmed that Solano and Aronows are the founders of the club.
According to rumors, both are also active on social networks under pseudonyms. Solano's nickname is said to be Gargamel, while Aronow's is Gorgon Goner. Both started the Bored Ape Yacht Club to make their entry into the crypto field via NFTs. They then signed up on Twitter with their Bored Apes avatars.
However, the NFTs themselves were designed by a 27-year-old graphic artist nicknamed Seneca. She is the main artist of the Bored Ape NFTs.
Two other co-founders participated in the creation of the club, but their identity remains secret at the moment. Their pseudonyms on social networks are No Sass and Emperor Tomato Ketchup.
The creators of the Bored Ape Yacht Club finally show their faces
In August 2022, the creators of the Bored Ape Yacht Club finally revealed their faces in an interview with Input. In the video, Wylie Aronow and Greg Solano talk about how they met and what inspired them to create BAYC.
This friendship would have started with a debate about the late author David Foster Wallace in a Miami bar. They were on vacation from college at the time, where they were both studying creative writing.
During this interview, the two BAYC founders walk around New York City and hand out glasses similar to the Bored Apes. They also reveal their interests and the events that led to this art project.
Why are Bored Apes so expensive?
The avatars in NFT Bored Apes have a purely speculative value. It seems totally subjective, like the price of a suit worn by Johnny Hallyday, a Jimmy Hendrix guitar or a first edition Pokémon card.
However, the prices did not reach such heights by pure chance. Celebrities and other web influencers have played a key role in the growth of this new trend. Athletes, musicians and other influencers are choosing these NFTs as their avatars on Twitter.
Actress Gwyneth Paltrow posted a tweet about the BoredApeYC, while Jimmy Fallon interviewed Paris Hilton on the subject. Similarly, rappers like Snoop Dogg and Eminem have jumped on board. The latter spent $462,000 to acquire an avatar. This was enough for the general public to take an interest in the phenomenon, and immediately gave it a certain value.
However, joining the Bored Ape Yacht Club also brings some benefits. As the name suggests, it is actually a private company. Owning one of these NFTs allows you to become a member of the club.
Members can access a private Discord server, and be invited to exclusive parties where they can meet celebrities. On social networks, owning a Bored Ape has become a status symbol.
Mutant Apes and Bored Ape Kennel Club
Owning a Bored Ape allows access to other NFTs, which can be resold for massive amounts of money. For example, Yuga Labs offered a dog NFT from the Bored Ape Kennel Club to all Bored Ape owners.
Later, the firm also launched the Mutant Serum NFTs to generate the Mutant Ape Yacht Club. Each Bored Ape owner was given a serum to generate a Mutant Ape NFT for free.
At the same time, in August 2021, Yuga Labs also released 10,000 new Mutant Apes available over the counter for a price of 3 ETH. Within an hour, the entire stock was sold for $96 million.
How to buy a Bored Ape?
Bored Ape Yacht Club NFTs are available through secondary marketplaces, the best known of which is OpenSea. To purchase a Bored Ape Yacht Club, Bored Ape Kennel Club or Mutant Ape Yacht Club NFT, simply go to the page dedicated to one of these projects on OpenSea to view the complete collection.
Some are offered for a fixed price, others are sold at auction. It is necessary to have an Ethereum wallet such as MetaMask to buy NFTs on the site. Of course, you also need to have enough ETH on the wallet to cover the purchase price and transaction fees.
Bored Apes Yacht Club wants to raise $5 billion from Anreessen Horowitz
According to a February 2022 Financial Times article, Yuga Labs is looking to raise between $4 billion and $5 billion from investment firm Andreessen Horowitz.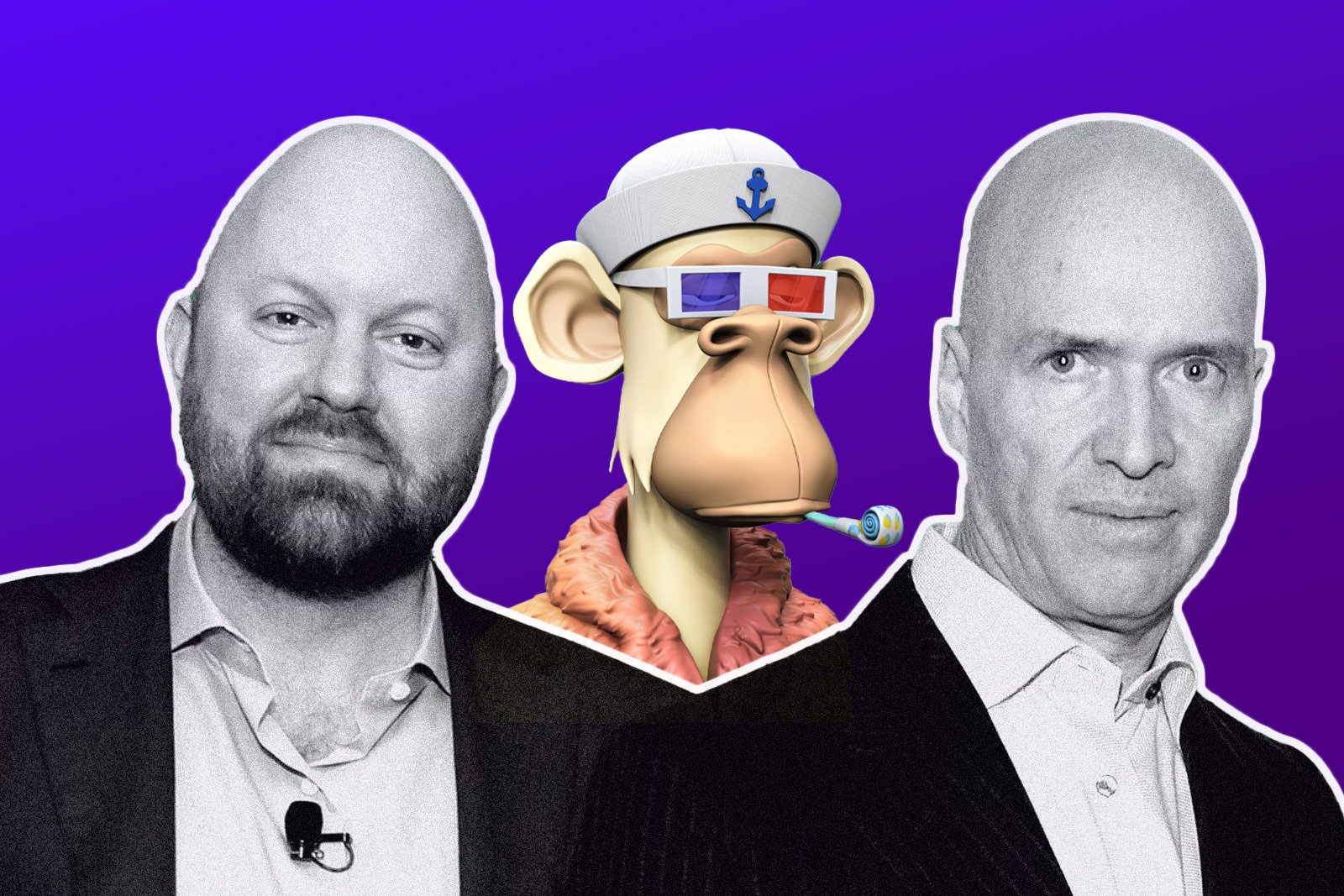 Negotiations are in terms, and the terms of the deal could change. However, if Andreessen Horowitz agrees to finance the project, it would be the first institutional investment in the Bored Ape Yacht Club project.
Recall that this investor has financed technology companies like Facebook and Airbnb, among others. He is also a major shareholder in the cryptocurrency exchange platform Coinbase and the OpenSea platform dedicated to NFTs.
Yuga Labs buys CryptoPunks and Meebits from Larva Labs
On March 14, 2022, Yuga Labs announced the acquisition of CryptoPunks and Meebits from Larva Labs. As a result, the startup now controls three of the most popular and expensive NFT collections on the market. The Bored Apes collection is worth $1 billion in trading volume, and the CryptoPunks collection is worth over $2.2 billion.
Larva Labs co-founders Matt Hall and John Watkinson believe that Yuga Labs is best positioned to continue to grow the CryptoPunks and Meebits projects. Both are convinced that this company will remain one of the main players in the decentralized web.
As a reminder, CryptoPunks was one of the first NFT projects. There are over 10,000 iterations of this collection on the Ethereum blockchain. The floor price currently starts at 69.95 ETH or approximately $181,000.
On the other hand, the Meebits collection has accumulated $227 million in trading volume on OpenSea. The floor price is 4.7 ETH, or approximately $12,000.
ApeCoin: the cryptocurrency of the Bored Apes Yacht Club
After the success of its NFT collection, the Bored Ape Yacht Club has just launched its own cryptocurrency: the ApeCoin (APE). This token has been available for purchase on platforms like CoinBase since March 18, 2022, and NFT BAYC holders also received some for free.
This cryptocurrency will serve as a token for the Bored Ape Yacht Club and all derivative projects. It is overseen by the ApeCoin DAO, whose members are elected by ApeCoin holders.
The Board will review the proposals of the DAO and implement them. The first Board will serve for 6 months, and then the DAO members will vote for new members every year.
This is an open-source project of the 3.0 economy, based on the blockchain. It will be possible to use it in the future metavers of Yuga Labs: Otherside.
This token will be used both to vote for the future of BAYC, to access exclusive content and events, and of course can be used as a currency.
The ApeCoin is an ERC-20 token, which means it is based on the Ethereum blockchain. The amount of tokens in circulation is limited to 1 billion, and all were minted at once.
The tokens were distributed in this way: 62% were distributed to NFT holders and the DAO treasury, 16% went to Yuga Labs and charities, 14% to seed contributors, and 8% to the founders of the Bored Ape Yacht Club.
If you're interested in investing in ApeCoin, simply visit an exchange such as Binance, Coinbase, KuCoin, Huobi, Kraken, Bybit or FTX. The price of the token currently hovers around $6…
The Otherside metaverse
On March 20, 2022, Yuga Labs released a teaser video for its upcoming metaverse: Otherside. This trailer shows a Bored Ape fishing a toxic potion and drinking it in one go. Immediately, a flying creature grabs him and carries him in the air. We also see a CrypoPunk, a Mutant Ape, a World of Women avatar and a Cool Cat.
According to a leaked document, Yuga Labs plans to create "a metaverse that will make all other metavers obsolete. This virtual universe will be centered around video games, and will include creatures from the various NFT collections owned by the startup.
This leaked document also reveals a narrative. All intelligent life on Earth has been transported to a strange world created by an ancient race of celestial creatures. It would be possible to buy land in this new world sometime in April 2022.
However, according to one of the founders, the project has changed significantly since this leaked document was written. Yuga Labs intends to surprise everyone once again.
At the same time, the Animoca studio that created The Sandbox has revealed that it is working on a secret project with the Bored Ape Yacht Club. It is most probably the Otherside metaverse…
Coinbase announces a movie trilogy based on BAYC
Where will the Bored Ape Yacht Club phenomenon end? On April 14, 2022, cryptocurrency exchange platform Coinbase announced a BAYC-based movie trilogy called "The Degen Trilogy" .
The announcement comes with a call for Bored Ape Yacht Club members to submit their NFTs as characters and their story ideas. They can make their proposal on a microsite dedicated to the film at this address. Owners of the chosen monkeys will receive the equivalent of $10,000 to their Coinbase account in ApeCoin or BitCoin.
The site is open to anyone with an account on Coinbase, and updates will be made throughout the year-long development of the first film. There will be an introduction to the story, winks and airdrops from ApeCoin. Users will also be able to vote for their favorite storyline to create a unique adventure film.
This project is part of Coinbase's new strategy to use entertainment to draw attention to its crypto exchange platform. The film series is also intended to promote the new NFT marketplace.
The crowdsourced movie concept seems particularly fitting for the Bored Ape Yacht Club, as this NFT project has distinguished itself from others by giving full intellectual property rights to the holders on the characters linked to their tokens. This is also what led to the birth of the Kingship group.
Subsequently, Coinbase plans to launch similar projects for other NFT collections. The firm wants to be a major player in the Web3 movement.
ApeCoin gains 58% in value in two days
On April 20, 2022, ApeCoin experienced explosive growth. In two days, its value increased by 58% from $10.90 to a high of $17.20.
This increase seems to be related to speculations about Yuga Labs' plans for the metaverse. It is rumored that it will be possible to buy land in Otherside for a price starting at 600 ApeCoins. Users want to acquire tokens to be able to have their virtual property at the lowest price.
ApeCoin becomes the most expensive metaverse token on the market
The value of ApeCoin soared on April 27, 2022, with a 7% increase to $19.10. In seven days, the token's value increased by 22%.
This sudden rise is related to Yuga Labs' announcement confirming the launch of the Otherside metaverse for April 30, 2022. Fans of NFT are waiting for this project, and ApeCoin will serve as the official currency in this virtual world.
This is the reason why APE trading has intensified greatly. Approaching the $20 mark, ApeCoin has become the leading metaverse token, surpassing Decentraland's MANA, The Sandbox's SAND and Axie Infinity's AXS.
The Ethereum-based token also outperformed the majority of the cryptos in CoinMarketCap's top 100. ApeCoin rose to 28th place in the crypto market cap rankings at $5.5 billion.
Mutant Ape sold for $4 million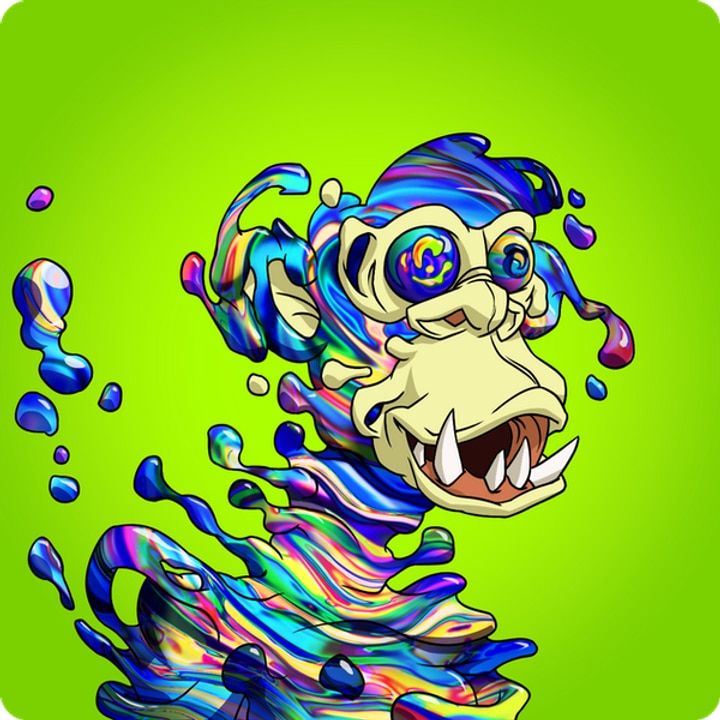 In August 2022, Mutant Ape #30005 was sold for 2300 ETH or the equivalent of $3.91 million at the time of sale. The buyer @Lior procured this precious NFT from the collection @oxb1. This is a new record for the Bored Ape ecosystem.
This Mutant Ape is worth a lot of money for several reasons. First of all, it is certainly the most visually successful Bored Ape. Its multicolored fur seems to melt and liquefy, creating a totally psychedelic effect.
Furthermore, this Trippy Mega Mutant Ape was created using an extremely rare Mega Serum. It was created by its original owner in February 2022, using one of the last existing M3 serums.
Remember that there were originally only eight M3 Mega Serums, allowing a Bored Ape to be transformed in a completely unpredictable way. The last M3 serum sale took place in January 2022, for the equivalent of 5.8 million dollars in ETH.
Bored Ape Yacht Club attracts stars and brands
In just a few months, Bored Ape Yacht Club has become the most popular NFT profile picture collection. The bottom price of this collection surpassed CryptoPunks for the first time in December 2021.
Celebrities have followed the trend, and many stars have chosen to use a Bored Ape NFT as their avatar on the networks. These include sports stars like NBA stars Stephen Curry, Josh Hart, Tyrese Haliburton, or NFL players Dez Bryant and Von Miller. Among musicians, Eminem, Steve Aoki or Timbaland have also invested.
The big brands have also followed the trend. The Arizona Iced Tea brand bought an NFT Bored Ape Yacht Club and uses it in its marketing material. However, this usage has been criticized by Yuga Labs.
In December 2021, Adidas purchased a Bored Ape as part of an investment in the metaverse. The firm also launched a comic book featuring the character.
Additionally, in October 2021, Yuga Labs signed a partnership with music producer Guy Oseary to expand the brand into other entertainment formats. A month later, Universal Music Group formed the Gorillaz-inspired virtual band Kingship, featuring Bored Apes.
Another key moment in the rise of NFT profile photos is the introduction of a verification system by Twitter in January 2022. Subscribers to the Twitter Blue service can have their NFT images verified for a hex frame and add a link to the NFT on OpenSea.
A nice way to demonstrate that it takes more than a right click to copy an NFT image. However, a large part of the Twitter community criticized this initiative.
Universal Music launches a virtual music band based on BAYC
The famous Universal Music label has acquired several NFTs from the Bored Ape Yacht Club, with the aim of creating a virtual music band for the metaverse: Kingship.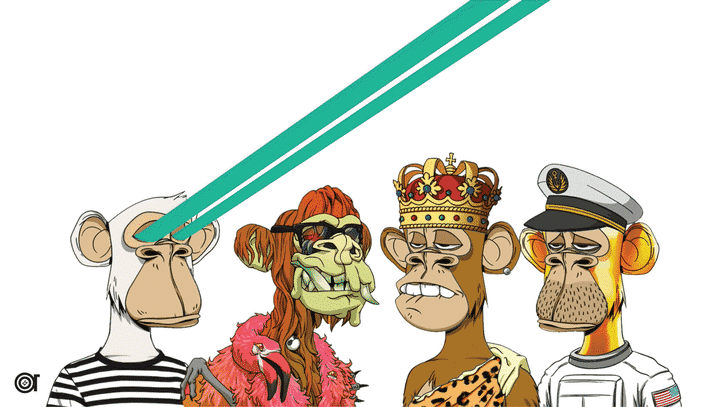 Since November 2021, Universal is investing heavily in this project. All the members of the band are NFT. The total amount disbursed by the firm is unknown, but two of the Bored Apes were already costing $125,000 each last November.
At the end of March 2022, the label announced that it had paid more than $360,000 in ethereum to buy a Bored Ape named Manager Noet All. The latter will be the leader of the group. This acquisition by a label of the scale of Universal demonstrates the growing influence of the Bored Apes Yacht Club…
Madonna joins the Bored Ape Yacht Club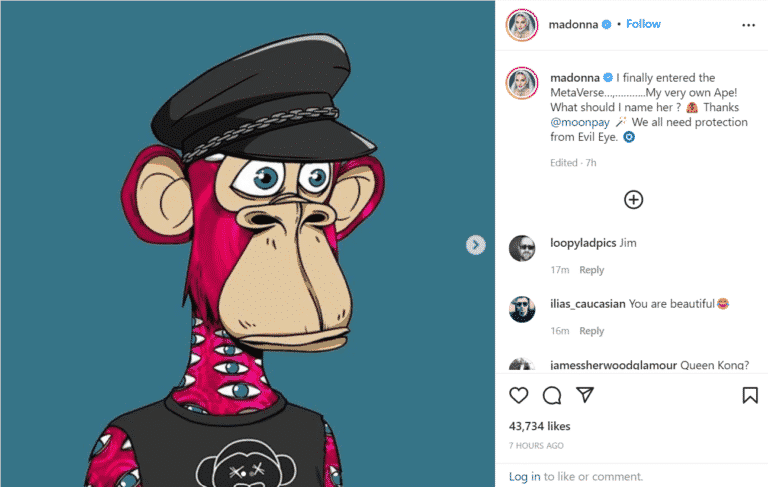 One of America's most renowned superstars has just joined the Bored Ape Yacht Club: on March 25, 2022, Madonna revealed on Instagram that she had purchased a Bored Ape NFT worth half a million dollars.
The singer said she joined the metaverse by purchasing Bored Ape #4988, complete with pink fur and a funny hat…
In the same publication, Madonna thanks the company MoonPay. MoonPay buys NFTs for celebrities, and bought Madonna's for 180 ETH ($564,000).
Eminem and Snoop Dogg: Bored Ape Yacht Club video wins MTV Video Music Awards
On June 24, 2022, Eminem and Snoop Dogg created a surprise with a video in which they appear as their Bored Ape Yacht Club avatars.
Both rappers are members of the club, and chose to use their respective monkeys for the video of their song "From the D to the LBC". This song is far from being insignificant, since it is the first collaboration between Eminem and Snoop Dogg…
Mars lance des M&M's Bored Ape Yacht Club
In August 2022, the famous candy brand Mars announced a partnership with Universal Music Group's 10:22PM label. The goal of this alliance is to launch a limited edition chocolate M&M's based on Kingship: the virtual band made up of avatars Bored Ape Yacht Club and Mutant Ape Yacht Club.
According to Jane Hwang, global vice president of Mars, "Consumers' expectations for what they want from their favorite brands have changed, and at Mars, we know we need to innovate more than ever with such a culturally famous brand like M&M's.
Kingship's NFT "key card" holders have been given access to purchase M&M's Bored Ape Yacht Club as a preview. In total, only 10,000 packs will be released by Mars for this limited edition.
Bored Ape Yacht Club and cybersecurity
With the sky-high prices of Bored Apes images, it's no surprise that cybercriminals are looking into this phenomenon. Numerous phishing attacks have been conducted in an attempt to steal these NFTs.
In December 2021, a Twitter user reported losing all his monkeys to a phishing attack. Then, in January 2022, a security breach on the OpenSea marketplace allowed a user to obtain Bored Apes and other NFTs for tens of thousands of dollars less than the rock bottom price.
Hacker steals 10 NFTs from BAYC via Instagram
On April 25, 2022, a hacker managed to steal over 91 NFTs worth $2.8 million. A phishing attack was launched against members of the Bored Ape Yacht Club by hacking the club's official Instagram account.
In order to warn users, the Bored Ape Yacht Club took to Twitter with a call to not hit anything, not click on any links, and not link any wallets to anything.
After hacking into the BAYC's Instagram account, hackers used it to post a fake message about a LAND airdrop requiring you to connect your wallet. It was a reference to the club's official playbook, including a metaverse game with virtual fields.
Unfortunately, as soon as users connected their wallets and approved a transaction, the website stole their NFTs. According to blockchain data, the hacker's wallet holds 91 NFTs worth a total of $2.8 million based on the low prices of the impacted collections.
Among the stolen NFTs are four Bored Apes, six Mutant Apes and three Bored Ape Kennel Club. The hacker also took a CloneX and items from other collections such as EightBit, Alien Fren and Toxic Skull Club.
BAYC co-founder Garga promises to contact affected users and post a full report on the incident as soon as possible. He also points out that two-factor authentication was enabled on the Instagram account, which makes this hack particularly strange…
Bored Ape #9132 gives financial advice on Cameo
On the Cameo platform, where fans pay celebrities and influencers for short, personalized videos, Bored Ape #9132 now offers investment advice and motivational speeches.
In 3D form, the monkey appears in three-minute videos offering advice and encouraging phrases such as "call your family" or "you are not alone." These videos start at $25.
Behind the nonchalant monkey is Adam Draper: a venture capitalist at Boost VA, and one of Coinbase's first investors. He says it's natural for Bored Apes to "take on the personality of their owners" when they come to life as 3D characters.
He sees this presence on Cameo as "a new channel to receive pitches from startups," and believes that "it could also be a way for people to engage with the Bored Ape community in a way that wasn't possible before." The 3D version of the Bored Ape is designed by Aquifer: an animation company funded by Boost VC.
Son of billionaire Tim Draper, Adam Draper has previously stated that creating Bored Ape videos on Cameo is his "cure for climate change." Indeed, the revenues generated by his videos are invested in the environmental cause and in particular NGOs dedicated to the oceans.
Despite the many criticisms of the NFT and the Bored Ape Yach Club, Adam Draper is not fazed. He "loves an industry where there is opposition, because it means they will be more passionate about the works when they realize the power of ownership on the internet"…
Cameo CEO loses his Bored Ape to Apple ID hack
In early August 2022, Cameo CEO Steven Galanis announced on Twitter that he had had his Apple ID hacked. The hacker stole several crypto assets from him, including his NFT Bored Ape Yacht Club purchased earlier this year for the equivalent of $320,000.
It's unclear who stole Galanis' NFTs, but the transparency of the Blockchain makes it possible to track transactions. The Bored Ape was resold on OpenSea for 77 Ethereum, the equivalent of $130,000 at the time of sale.
The account that stole and resold the NFT, DCC10E, is no longer active on OpenSea. In addition to his Bored Ape, Galanis also had his land for Yuga Labs' Otherside metaverse and nearly $69,000 in ApeCoin cryptocurrency stolen. Following his pleas for help, OpenSea has suspended the sale and purchase of Bored Ape #9012.
Yuga Labs Discord hacked, 32 NFT stolen
In June 2022, a hacker managed to hack into the Discord account of the Yuga Labs Community Manager. He then set a phishing trap for server members, advertising a "giveaway" for Bored Ape Yacht Club, Mutant Ape Yacht Club and Otherside NFT holders.
A web link was supposed to allow visitors to mint a new free NFT. By mentioning a limited number of available tokens, the hacker managed to push many Internet users to hurry up and click on it, forgetting all about suspicion.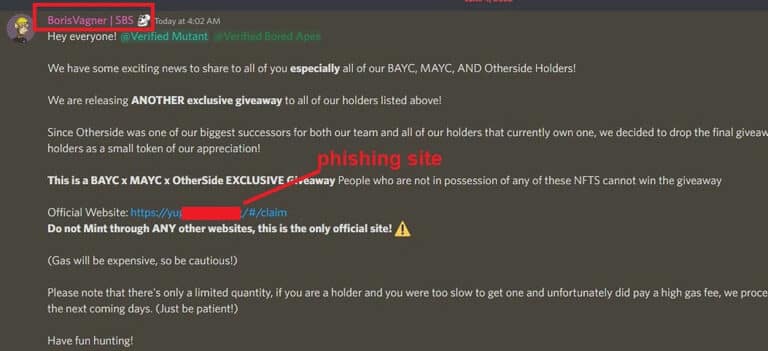 In reality, by clicking on this phishing link, the victims opened access to their crypto wallets and allowed the hackers to steal their Ethereum and NFTs. In total, more than 145 Ethereum and 32 NFTs were stolen with an approximate value of $250,000 at the time.
It is unknown how the Community Manager's account was compromised, and if two-factor authentication was enabled. Unfortunately, the colossal value of BAYC's NFTs attracts the covetousness of the most ingenious hackers…
Bored Ape Yacht Club accused of neo-Nazism
Since the end of 2021, the creative director Ryder Ripps accuses the Bored Ape Yacht Club of containing racist and neo-Nazi references. He has accumulated a lot of evidence and shares it on social networks, creating controversy.
The fruits of his research are compiled on the website gordongoner.com, named after the pseudonym of one of the founders of the club. In an interview with Input, he accused the creators of BAYC of being trolls.
The company Yuga Labs strongly refutes these accusations, and denies any connection to extremist imagery. CEO Nicole Muniz points out that this idea is in total opposition to the notion of community that Bored Ape Yacht Club is based on.
She assures that Ripps' tweets are "very painful and disturbing," while experts from the Jewish organization Anti-Defamation League also doubt the evidence presented by Ripps.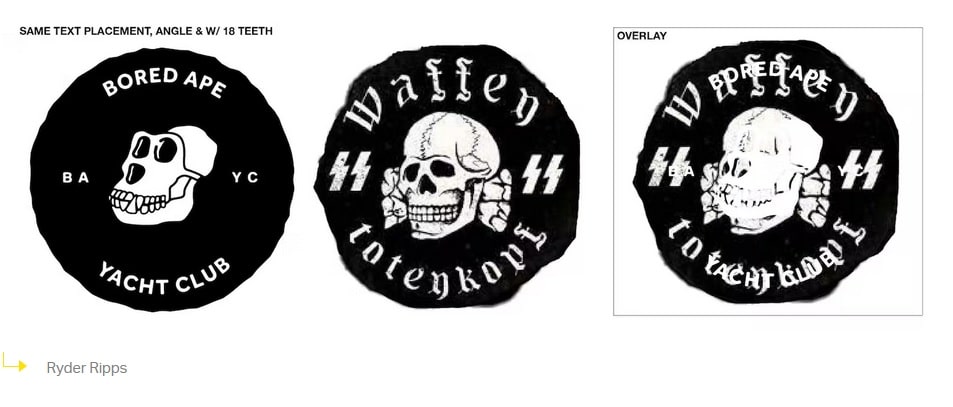 In addition to accusations of Nazism, Ripps and his supporters accused some Bored Apes of conveying racist clichés about Africans or Japanese.
At the end of June 2022, Yuga Labs finally filed a complaint against Ryder Ripps. The firm accused him of conducting "a harassment campaign based on false accusations of racism" to promote its own collection of NFT…
The future of Bored Ape Yacht Club
Competition is heating up in the NFT image market, and Bored Apes Yacht Club will have to find a way to stay above the competition. In December 2021, Yuga Labs announced a partnership with Animoca Brands to launch a game to earn cryptocurrency.
The company will need to find other avenues to renew and expand in order to stay on top of the game. If not, it risks being stolen by a new collection…