In this detailed file, we take a closer look at the CyberKongz collection and you can find out why people are paying so much money for unique tokens from this collection.
Table of contents
What are Cyberkongz?
CyberKongz is a unique NFT collection consisting of 1,000 CyberKongz. These are the genesis Kongz. More variants came later, which we will look at later in this article. These non-fungible tokens were created by artist Myoo in the spring of 2021, with the artist providing the design and the NFT itself being randomly generated.
The collection was released without major advertising campaigns, but quickly received a lot of attention from enthusiastic NFT investors. As a result, many CyberKongz were minted from the collection's launch. A CyberKong consists of 34×34 pixels, which is ideal for profile pictures on Discord or Twitter, for example. As owners were able to display their CyberKong through their social media accounts, the popularity of the collection continued to grow.
When generating the CyberKongz, digital monkeys can be given different items. Each item has a certain rarity, but a combination of rare items provides an even higher value. For example, in November 2021, three different CyberKongz traded for more than $400,000. These three are no exception, a total of 22 CyberKongz traded above $200,000.00 between November 17 and December 17.
At their peak, the NFTs had 215 ETH as the average selling price.
In January this year, CyberKongz's 7-day sales volume was $19.3 million. According to the data, the project has been on the list of top 20 NFT collections in all-time sales volume with over $175 million.
CyberKongz features
There are several items that carry a CyberKong. Each item has a certain rarity. Items can hang in different places on the digital monkey. For example, there are items for in the mouth, on the head, glasses, in the ears and around the neck.
These items each have some form of rarity, but the combination of items is also important to the value. As an example, a viking helmet and AirPods are very rare items, but the combination of both features is even rarer.
For CyberKongz, the laurel wreath is the rarest item. There are only 3 specimens with this wreath. Below you can find the rarest items, in order of rarity.
Laurel wreath – 3/1000
Viking helmet – 4/1000
Brain – 10/1000
Banana peel – 10/1000
AirPods – 12/1000
Headband – 18/1000
CK cap – 18/1000
In addition to these features, there are also 10 legendary CyberKongz. These 10 legendary ones are each unique; there is only 1 of this kind. These digital monkeys do not have the items worn by the other CyberKongz, but have other external features not found in the other 990 copies.
The roadmap
The team has achieved a number of milestones. For instance, it has created playable metaverse versions, including owning land in The Sandbox and making 3D printable OBJ files.
The community has Neo Kong City, a 12×12 estate beside a huge 24×24 plot for the establishment of Kongz Island.
A Sandbox Game auction also took place for 'The Shrine of Truth,' a large monument that was to be renamed "The Shrine of Kongz."
Then there are some ongoing projects like Kongz Tank and Play and Kollect. The former is an NFT version of Shark Tank, while the latter is a blockchain game that allows players to earn a number of in-game rewards. Players use CyberKongz VX to redeem prizes like NFTs and $BANANA.
In July 2021, CyberKongs collaborated with Metakey, a utility-based project offering owners exclusive perks in the metaverse.
Moving on, CyberKongz has collaborated with Chuck Liddell, the UFC legendary star.
And recently the project has collaborated with Nifty League.
Last but not least, the team is also involved in partnerships with Worldwide Webb, The Sandbox, and Solarbots.
The token of CyberKongz: BANANA
After the successful launch of CyberKongz, the team wanted to further develop the collection. A community is important to a collection, so the focus was on maintaining the community. Some CyberKongz holders were developers themselves and offered their knowledge and skills, to help move the project forward.
This led to the creation of BANANA, the token whose name is perfectly suited to a collection of 1,000 monkeys. With the advent of BANANA, it became possible for CyberKongz holders to earn additional income. In fact, holders will receive 10 BANANA per day.
The team has long-term plans with this NFT collection, so this crypto reward is not short-lived. For the next 10 years, holders can expect 10 BANANA per day in their wallet. In addition to selling your rewards, there are other options. By bursting the BANANA token, holders can take advantage of various features.
Burning the token will reduce the supply of BANANA, which can be positive for its value. In addition, by burning tokens, a holder can give his Cyberkong a unique name and even create a biography. It will also be possible to breed any Baby CyberKongz, which will have unique characteristics just like the CyberKong itself.
BANANA is an ERC-20 token, which is not to be confused with ApeSwap Finance's Banana token. On October 7 he reached his all time high of $122.48 per BANANA. This means that any holder of a CyberKong would be paid $1224.80 on the day of the all time high.
Since the crypto-currency market has seen some price drops since then, the token is worth $0.60, which means that each holder will receive at least $6 in BANANA per day. Thus, NFT holders still have passive income by owning an NFT.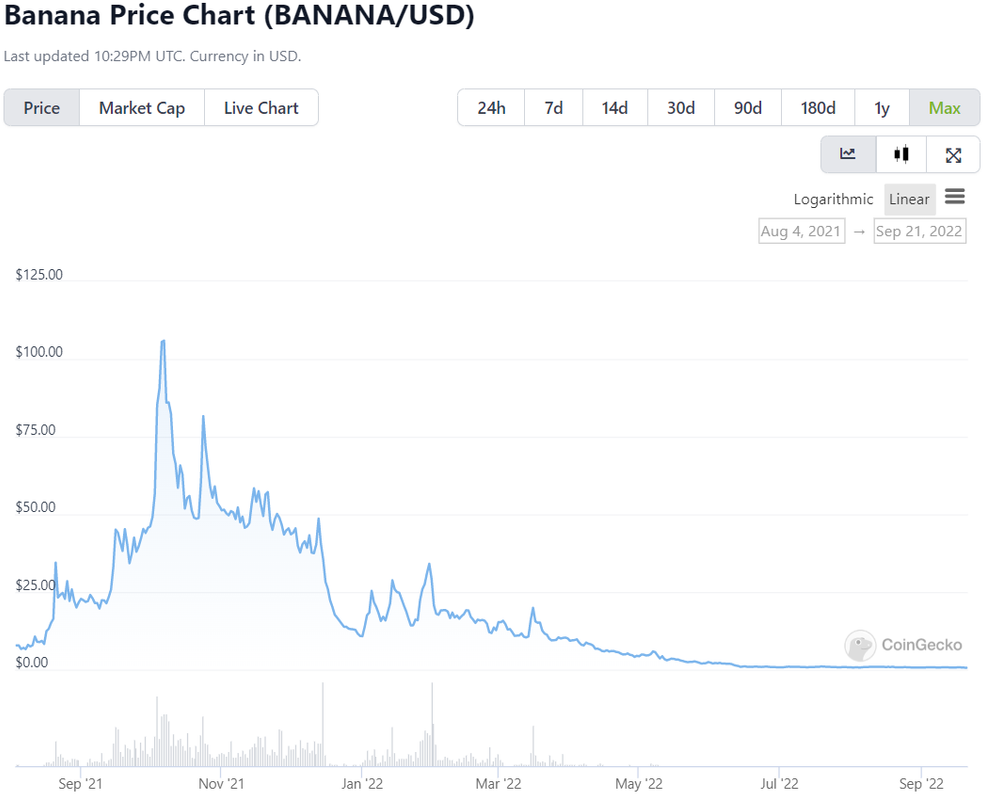 Baby Kongz
However, you can't just get a baby variant. This requires 600 BANANA tokens. So two months of saving and burping will get you an extra NFT. However, in addition to BANANA, you also need two CyberKongz from the genesis collection.
As with the CyberKongz, you can pimp a BabyKong by using BANANA. You can change the baby monkey's biography, as well as create a nickname. Another benefit to owning a BabyKong is exclusive access to certain Discord servers.
CyberKongz VX
About three months after the Baby CyberKongz were introduced, CyberKongz VX was released. This collection consists of 15,000 copies to be used in the upcoming metaverse.
CyberKongz focuses on future developments and current hype, making the metaverse a logical extension of the collection. The team calls this development "bringing the jungle to life. In addition to the Discord channel, for example, CyberKongz holders can connect with each other in this way.
With this move, CyberKongz is moving from 2D to 3D. This allows the unique monkeys to be used in The Sandbox (SAND) metaverse. CyberKongz is putting its money where its mouth is, considering they have purchased land on the platform for these ambitious plans.
CyberKongz on social media
CyberKongz's Discord currently has about 37,000 members. However, there are more channels where you can follow news about CyberKongz. For example, the collection has its own website, where you can discover even more about the digital monkeys.
The team is also active on Twitter. For many blockchain-related projects, Twitter is the platform where the most followers are found. This is also true for CyberKongz. With over 250,000 followers, Twitter is the platform where most interested parties follow news regarding the NFT collection and communicate with the team.
In addition, the team also shares information on Medium, through blogs. With over 1,500 followers, this platform is the media channel with the fewest followers. However, Medium is a platform where you can read some articles for free, but for unlimited access or other benefits you will have to take a paid membership.
Despite this low number, CyberKongz scores relatively well on Medium. Most collections, which are known to a large audience and represent a high value, have fewer followers on Medium. For example, the NFT collection Bored Ape Yacht Club with over 728 followers and the Cool Cats NFT collection with 1,200 followers have a lower number than CyberKongz.
Conclusion
The CyberKongz collection is one of the most well-known and valuable NFT collections today. These digital monkeys are fixed on the blockchain and are different from each other due to their unique characteristics. In addition to these unique characteristics, there are ten legendary CyberKongz that are completely different from the other 990.
The unique characteristics make the NFTs rare, making them valuable. However, the perks associated with the NFT are the real driver behind the price of a CyberKong. By receiving 10 BANANA daily, holders of the NFT have passive income for 10 years. By the way, this 10 years is valid since the minus of the NFT, the 10 years is not reset when an NFT changes holders.
You can redeem these BANANA tokens, by exchanging them on SushiSwap (SUSHI) for Ethereum (ETH). In addition, you can use the tokens to pimp your CyberKong or hatch BabyKongz. These BabyKongz are also quite pricey. Currently OpenSea, the cheapest BabyKongz is 2.35 ETH, but this price may change in the future. Besides these value-enhancing elements, keeping the NFT is also a kind of status symbol. The size of the NFT is 34×34, which makes it very suitable as a profile picture on Twitter, for example.
CyberKongz is one of the few collections with a large community as well as lucrative benefits for holders, which can be positive compared to many other collections.