The bluechip project at more than 57K ETH in Volume and with a floor price that has rarely fallen below 1 ETH continues to gain sales each hour. You need to know why Pudgy penguins are rising this week
As announced in the bio of their Opensea account the project wants to spread the good vibrations through the Web3.
Pudgy Penguins is a collection of 8,888 NFTs, waddling through Web3. Embodying empathy & compassion, Pudgy Penguins are a beacon of positivity in the NFT Space. Each holder receives exclusive access to experiences, events, and more. Join the Huddle now and spread good vibes across the meta.

And their intentions to create a happy metaverse are very clear as proven by a picture on their site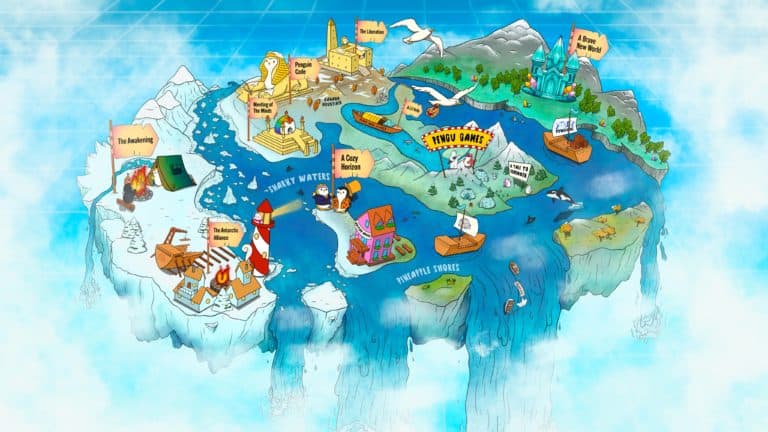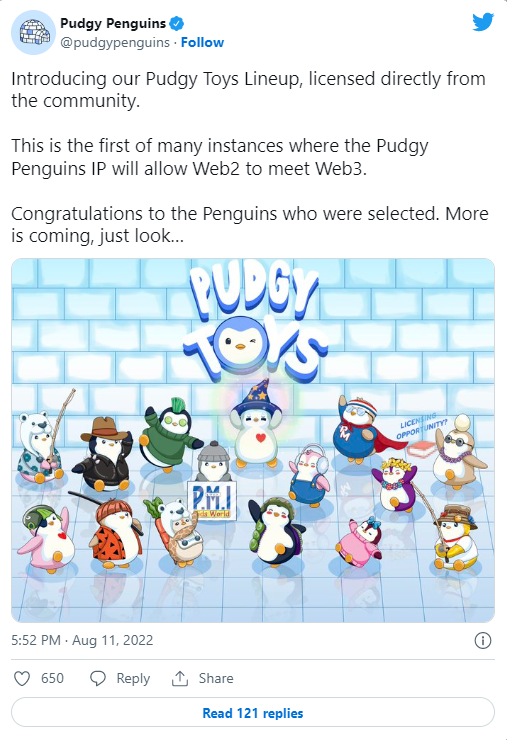 But what probably just boosted sales on Thursday was the announcement that it will be launching a line of Pudgy Toys licensed directly from select NFTs held by people in its community.
Over the last 24 hours, the collection saw a transaction volume of 256 ETH according to statistics from OpenSea. This was a threefold increase from the previous day. The collection's floor price is now 2.73 ETH, up 18% from yesterday.
The announcement comes amid an ongoing debate in the NFT world about licensing rights for holders, highlighted by Moonbirds' recent switch to a CC0 license, causing its floor price to tank.
A CC0 license, unlike the licenses of Pudgy Penguin NFTs and collections like the Bored Ape Yacht Club and CryptoPunks, allow anyone to use the creative rights behind the project's artwork to create commercial products, not just the holder of the NFT.
Behind the scenes
In cooperation with his three classmates, Clayton Patterson, at the time a computer science major at the University of Central Florida, created Pudgy Penguins in the summer of 2021
Once you set up a Decentralized Autonomous Organization (DAO) and give NFT holders voting power, you run the risk of getting outvoted from your own project. That's exactly what happened to Pudgy Penguin founders this January. In particular, at the center of this controversy was one of the founders, Cole Villemain. In his previous project, he purportedly has a history of abusing customers and mishandling projects.
However, for depleting the DAO treasury without meeting stated goals, Pudgy Penguin founders saw the writing on the wall. According to user @9x9x9eth, who has in possession 600 ETH worth of 242 Pudgy Penguin NFTs, they approached him with an 888 ETH offer for the whole project, which he declined.
Instead, the buyer ended up being Netz Capital's Luca Netz, for 750 ETH (~$2.5m at the time). Luca Netz marked his acquisition as a new chapter in the Pudgy Penguins' journey toward web3.
The team is also composed of Lorenzo Melendez (CTO) founder of Cowboy Labs, Pete Lobanov (CCO), Jennifer McGlone (CLO) advised by Asset Bender