CryptoDickbutts overtook several large NFT collections on Sunday based on daily trading volume. On OpenSea, the volume on the CryptoDickbutts collection shoot up by 690% to 290 Ethereum (about $495,000). This suddenly put the project back in spot 6 on the daily ranking.
Collection dating back to 2006
The Dickbutts collection dates back to the year 2006 and was created by K.C. Green, a famous comic book artist. It didn't take long for the Dickbutts to become part of internet culture. The unusual pictures were shared in countless amounts in memes on platforms like Reddit.
Now the collection exists as a series of 161 NFTs on Ethereum, known as the OG collection, to which 5,200 more NFTs were later added in August 2021. The cheapest CryptoDickbutt currently retails for more than 3 Ethereum (about $5,100). With that, the "floor price" for a Dickbutt has increased by 31 percent over the past 24 hours.
163 percent in 30 days
The fact that CryptoDickbutts is doing well is evident from its performance over the past month. In fact, the collection posted a 163 percent price gain in 30 days. This still makes it the number 34 collection in the world based on the floor price, but the project is slowly climbing up the ladder.
While some NFT projects lose momentum over time, CryptoDickbutts seems to be treating the opposite path. The project has no clear road map and is led by the CryptoDickbutt DAO, which includes celebrities like Steve Aoki, Blondish and ProbCause.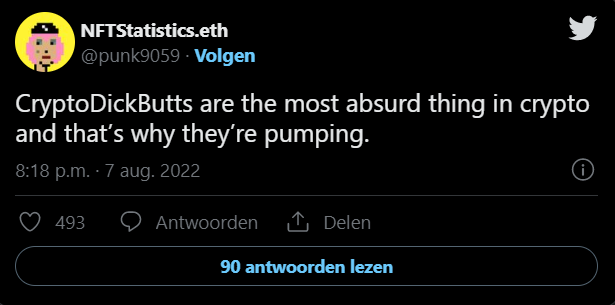 It is not clear exactly how and why the CryptoDickbutts began their resurgence. What is clear is that the CryptoDickbutts are the most bizarre NFT collection in the crypto world. As far as we are concerned, they symbolize the craziness of the NFT revolution. After all, who would have thought 5 years ago that you would pay $5,000 for a digital Dickbutt plate?