The advent of non-fungible tokens [NFTs] and concomitant blockchain trends like decentralized finance [DeFi] opened up many opportunities for the emerging crypto market. A digital representation of ownership of digital assets, NFTs have taken the world by storm.
NFTs utilize the same technology as cryptocurrencies, although different in specific ways. They are super-rare, indivisible [as the name implies], and irreplaceable. That's not all; most of these digital tokens are expensive and, depending on the team, have several utilities ranging from P2E gaming cards to exclusive access to events, etc.
As the blockchain space continues to experience tremendous growth, dozens of revolutionary projects have been launched to take NFT usage and utility to the next level. One of such platforms is NFTuloan.
The Celsius Problem and Peer-2-Pool as a Solution
As one of the groundbreaking trends in the crypto space, DeFi protocols seek to "bank the unbanked." With over 2 billion of the world population, unbanked or underbanked, decentralized finance hopes to resolve this significant issue by introducing a concept where users get unlimited access to funds. DeFi aims to deliver an ecosystem where individuals, regardless of location, can access financial services like lending and borrowing.
A more significant issue arises—Celsius' destruction of users' trust in DeFi.
According to a recent press release from Celsius—one of the leaders of the evolving crypto lending market with over $8 billion lent out, $12 billion in assets, and over 1.7 million users—the crypto giant has ceased all withdrawals, transfers, and swaps.
With the Celsius team citing extreme market conditions as the reason for this unwarranted and unfavorable decision, experts reveal that this sudden announcement is related to the TerraUSD collapse, to which Celsius allegedly had substantial exposure.
While the founding team led by Alex Mashinsky has debunked Celsius' link to Terra, the events of the last thirty days point otherwise. With recent news from the Department of Financial Regulations [DFR] stating that Celsius is insolvent, this is a massive dent in the impeccable image of DeFi.
With all of these happenings halting the expected growth and adoption of DeFi, the newfangled peer-2-pool lending model is the future of decentralized finance. Unlike the peer-2-peer model, where borrowers interact only with a specific user, the peer-2-pool lending system requires lenders to supply liquidity or tokens to an asset pool. On the other hand, borrowers will take liquidity from the pool directly.
NFTuloan Integrates the Peer-2-Pool Lending Structure
NFTuloan is a revolutionary NFT platform that aims to offer investors short and long-term loans. The price of NFTs continues to rise daily, making it a tad bit difficult for the average investor to acquire several high-yielding NFTs. NFTuloan hopes to solve this problem.
Do you have dormant NFTs in your wallet? NFTuloan allows you to liquefy them now.
As one of the most innovative liquidity pools in the crypto pools, NFTuloan provides liquidity to digital collectibles, domain names, art pieces, virtual lands, P2E game cards, utilities, etc. On the NFTuloan platform, you can conveniently apply for long and short-term loans using your dormant NFTs as collateral. This core offering aligns with the liquidity pool's greater goal of helping users build their portfolios over time.
In an unprecedented fashion, NFTuloan opens its arms to all types of collectors—the early supporters, newbies, gamblers, art lovers, flippers, crypto holders, and crypto advocates. The platform is similar to a pawn shop, although just for NFTs.
NFTuloan is currently live on the Ethereum Testnet.
How to Use NFTuloan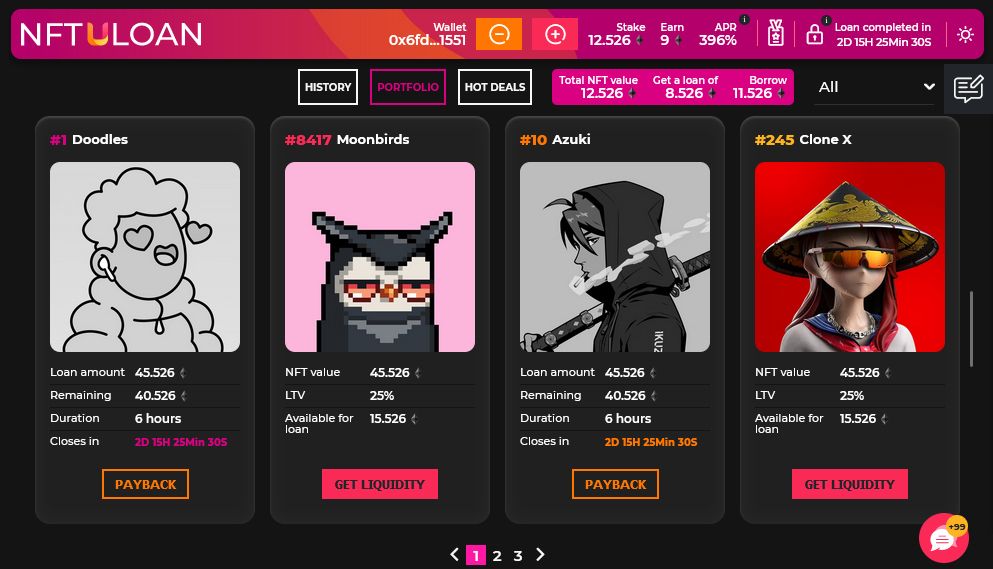 To get started on NFTuloan, you must register on the website. Then connect your crypto wallet to the platform.
Once completed, you can immediately apply for loans using your crypto holdings as collateral. Depending on several factors, each loan would last for 1 hour to 30 days, and the interest will depend solely on the value of your NFTs.
Built on the principle of transparency, unlike the Celsius network, NFTuloan integrates an instant NFT estimation mechanism that aids in valuing each NFT in seconds.
Unlike Celsius, NFTuloan introduces a clean business model with real-time activity and no bogus claims.